Posted:
May 16th, 2014 |
Author:
Sven
|
Filed under:
Report
,
Research Data
|
Tags:
Germany
,
infrastructure
,
RDM
,
University
|
Comments Off

on German's Rector Conference recommends RDM as strategic task for university directorates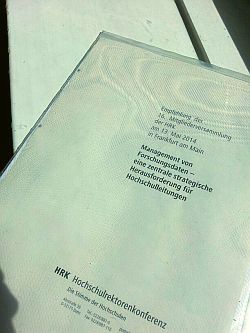 In a suggestion published a few days ago, the general meeting of the German's Rector Conference (Hochschulrektorenkonferenz (HRK), a voluntary association of currently 268 state and state-recognised universities and other higher education institutions (HEI) in Germany at which more than 94 per cent of all students in Germany are registered), has advised university directorates to take the necessary steps to support research data management, crosslinking and long-term preservation of and access to research data. For these important tasks suitable infrastructure components are required – a task the German's Rector Conference also suggests the university directorates to be responsible for.
In their statement (in German) the HRK initially discusses the considerable changes and challenges in creating and handling research data at universities and HEIs. HRK in particular highlights the massive – not to say exponential – increase of digital research data, the heterogeneity of these data, and the growing relevance of digital data even for the humanities. HRK also emphasizes how digital research data opens up new paths for scientific researchby contributing to the reproducibility and verifiability of research findings. These challenges and benefits for the research community should be addressed promptly, HRK suggests.
In practice, the HRK invites university directorates to develop and to harmonize policies for handling research data at the campuses and to conclude agreements with other university-level institutions, non-university research institutions and discipline-specific research data infrastructure providers.
In addition, the universities' management is accountable for strengthening information literacy and for setting the stage for managing institutional research data efficiently. The HRK also appeals to the federal government and the federal states for coordinating the measures necessary for implementing nation-wide information infrastructures and for making additional financial resources available.
---