Posted:
September 18th, 2014 |
Author:
Sven
|
Filed under:
EDaWaX
,
German
,
Research Data
|
Tags:
data citation
,
data documentation
,
data sources
,
Guidebook
,
persistent identifiers
|
Comments Off

on Guidebook "Discover-Cite-Document: Research Data in the Social Sciences and Economics" published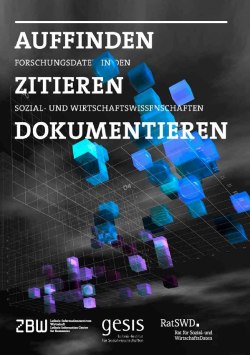 After almost eight months of intense collaborative work, we are happy to announce the release of a guidebook on research data in the social sciences and economics. The idea of writing the guidebook was born in the course of a panel session on last year's annual meeting of the "Verein für Socialpolitik" (VfS), the largest German-speaking economists association, where Jutta Günther (Halle Institute for Economic Research), Klaus Tochtermann (ZBW), Gert G. Wagner (German Data Forum and DIW Berlin) and Stefan Winkler-Nees (German Research Foundation) discussed both the potential and the need of data sharing in applied economics.
The panellists assessed that there currently is a lack of information on data documentation and citation in academic education.
Consequently, together with our partners from DIW Berlin, GESIS and the German Data Forum, we started to gather information on these topics. One year after the initial panel discussion, the hot off the press booklet was presented at this year's annual meeting of the Verein für Socialpolitik two weeks ago.
The guidebook covers several topics. In particular, we list a lot of useful sources for researchers to obtain suitable research data. In addition, several recommendations are given on how to correctly cite research data used in scientific papers. Last but not least the topic of data documentation (in the case of self-compiled datasets) is also addressed in the brochure.
We knew that there are already many fantastic guides available, like…
EDINA and Data Library, University of Edinburgh (2014).

MANTRA – Research Data Training (a great resource!)
UK Data Archive (2011). Managing and Sharing Data. A best practise guide for researchers.
Corti, Van den Eynden, Bishop & Woollard (2014). Managing and Sharing Data. A Guide to Good Practice. (companion website)
Ball, A.; Duke, M. (2012). How to Cite Datasets and Link to Publications.
Ball, A.; Duke, M. (2011). Data Citation and Linking. A Digital Curation Centre Briefing Guide.
ICPSR (2012). Guide to Social Science Data Preparation and Archiving. Best Practise Throughout the Data Life Cycle.
…but we did not find a single guide in German. Therefore we decided to develop a guidebook for students and PhD-candidates in German. The guidebook is available on http://www.auffinden-zitieren-dokumentieren.de. We encourage all of our German-speaking readers to have a look at the guidebook and to provide us with your valuable feedback. Thank you!
---