Posted:
November 13th, 2014 |
Author:
Sven
|
Filed under:
Data Sharing
,
Report
|
Tags:
incentives
,
Knowledge Exchange
|
Comments Off

on New KE-Publication: "Sowing the seed" #Update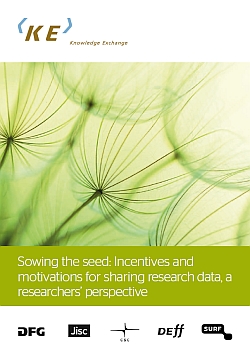 A few days ago,  Knowledge Exchange (KE) – a cooperation of five national funding organisations (DFG, Surf, DEFF, CSC and JISC) – has just released a new publication, titled "Sowing the seed: Incentives and motivations for sharing research data, a researchers' perspective."
This qualitative study has gathered evidence, examples and opinions on current and future incentives for research data sharing from the researchers' point of view, in order to provide recommendations for policy and practice development on how best to incentivize data access and re-use.
Incentives and motivations ask for development of a data infrastructure with rich context where research data, papers and other outputs or resources are jointly available within a single data resource. Different types of data sharing and research disciplines need to be acknowledged.
The study identified six different modes of data sharing.  These modes varied by scale, from private to public, and also by more or less formal mechanisms used to share data.
The study shines new light on motivations for researchers to share research data
as essential part of the research process;
to boost career perspectives;
to comply with the norms; and
in response to external drivers such as funder and publisher expectations, policies, infrastructure and data services.
Role and impact of discipline norms, a researcher's career trajectory, formal data policies, and training are examined. Recommendations are made to stakeholders to improve and increase research data sharing practice.
[Update 2014-12-17: After revision, the full report publication is now available on the KE-website. The PDF can be downloaded here.]
Knowledge Exchange was founded in 2005 to improve the digital infrastructure for information and communication technology as it relates to the research and university library sectors. Since 2005 KE is very active in multiple areas. These areas are clearly intended to encourage open access to the tools of science and scholarship for the higher education and research communities.
---