Posted:
November 15th, 2011 |
Author:
Sven
|
Filed under:
Report
|
Tags:
Knowledge Exchange
,
Research Data
,
Vision
|
6 Comments »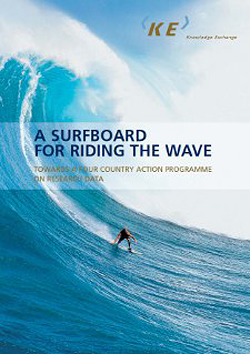 Following the report "Riding the Wave: How Europe can gain from the rising tide of scientific data" that was released 2010 by the high level expert group on research data, the Knowledge Exchange (KE) partners have embraced this vision and commissioned a report that translates Riding the Wave into actions for the four partner countries and beyond.
The report was presented today during a KE workshop in Bonn.
The Report "A Surfboard for Riding the Wave" builds on the 2010 report and presents an overview of the present situation with regard to research data in Denmark, Germany, the Netherlands and the United Kingdom and offers broad outlines for a possible action programme for the four countries in realising the envisaged collaborative data infrastructure.
While the 2010 report of the high level expert group on research data presented a vision for the year 2030, the report of KE concretizes this vision for the four countries.
---