Posted:
November 15th, 2011 |
Author:
Sven
|
Filed under:
Report
|
Tags:
Knowledge Exchange
,
Research Data
,
Vision
|
6 Comments »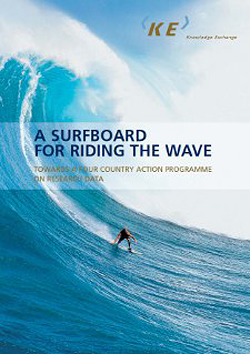 Following the report "Riding the Wave: How Europe can gain from the rising tide of scientific data" that was released 2010 by the high level expert group on research data, the Knowledge Exchange (KE) partners have embraced this vision and commissioned a report that translates Riding the Wave into actions for the four partner countries and beyond.
The report was presented today during a KE workshop in Bonn.
The Report "A Surfboard for Riding the Wave" builds on the 2010 report and presents an overview of the present situation with regard to research data in Denmark, Germany, the Netherlands and the United Kingdom and offers broad outlines for a possible action programme for the four countries in realising the envisaged collaborative data infrastructure.
While the 2010 report of the high level expert group on research data presented a vision for the year 2030, the report of KE concretizes this vision for the four countries.
The Knowledge Exchange partners identified  four key drivers:
incentives and
training in relation to researchers in their role as data producers and users of information infrastructures
infrastructure and
funding of the infrastructure in relation to further developments in data logistics.
For researchers in their role as data producers, KE identified four main areas of incentives to
share and publish their datasets:
re-use and recognition,
principles of science, reflected in rules and codes of conduct,
requirements by funding organisations and
journal data availability policies.
Regarding training and Education in the data-intensive scientific world, the report claims that new skills are needed for creating, handling, manipulating, analysing, and making available large amounts of data for re-use by others. Three actors were identified in this process:
researchers, who should have basic skills with regard to data handling
a newly emerging professional role with the label 'data scientist', who will be responsible for computing facilities, storage and access in their discipline and
another newly emerging professional role labelled 'data librarian', who will be responsible for data curation, preservation and archiving.
Regarding Data infrastructure and its funding, the report highlights some challenges: gaps in the present data infrastructure and connectivity issues have been addressed as well as the funding of data infrastructure.
For archieving these vision, three long-term strategic goals were mentioned by the  KE partners:
Data sharing will be part of the academic culture
Data logistics will be an integral component of academic professional life
Data infrastructure will be sound, both operationally and financially.
---