Posted:
December 23rd, 2011 |
Author:
Sven
|
Filed under:
EDaWaX
|
Tags:
Outlook
,
work packages
|
Comments Off

on Merry Christmas and a Happy New Year 2012!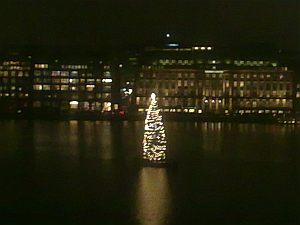 As every year, the christmas tree in front of my office window reminds me that the year 2011 is going to end soon…it's time to thank our project partners  for a successfull start of the project and a valuable cooperation. Furthermore, I want to thank all readers and commentators for your support in the last few months!
Since the start of the project to this day, 1000 readers visited our blog. In my eyes, this is a remarkable number for the two months and a few days since starting this. Thank you very much!
In the course of the next year we expect that even more people will visit us, because for 2012 we have a full agenda…
…this agenda starts with reports to our first two work packages in the first quarter of the year:
Work package 1 analyses incentives and barriers for researchers to publish their data.
Work package 2 analyses the data availability policies of 140 national and international economic journals.
I think we're going to present to results of these work packages as a short summary in English as well, while the full report will be in German.
And of course I assume, that the EDaWaX-Team will present the findings of this and other work packages on national and international conferences in 2012, so that we will have the chance to meet and talk to each other.
Best wishes for Christmas and a Happy New Year!
---