Posted:
March 8th, 2012 |
Author:
Sven
|
Filed under:
Projects
|
Tags:
Data Sharing
,
Datasets
,
Open Data
|
Comments Off

on Open Economics Workgroup provides information and data sets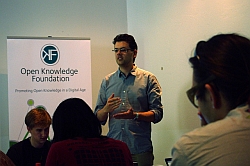 Since spring 2011 the Open Economics Workgroup is active in the UK and beyond. The workgroup is run by the Open Knowledge Foundation in association with the Centre for Intellectual and Property Law (CIPIL) at the University of Cambridge.
The members of the working group consist of leading academics and researchers, public and private sector economists, representatives from national and international public bodies and other experts from around the world.
Some of the aims and goals of the working group are:
• acting as a central point of reference and for supporting researchers and other people that are interested in economic data,
• promoting and identifying best practices as well as legal, regulatory and technical standards for open economic data, as well as 
• being a central point for the development and maintenance of projects related to open materials in economics.
The background for implementing this workgroup is that today the technologies and legal mechanisms to open up an unprecedented amount of relevant information on economics are available. The workgroup expects many advantages for economists and the public if economic data is openly available:
"If economic data is openly available we enable it to be freely combined and redistributed with other sources of information, leading to the emergence of a richer ecosystem of information sharing and a greater ability to combine this material with the increasingly sophisticated tools for representation, visualization and analysis that are available. These developments would benefit both expert economists and the wider general public interested in economic issues."
Moreover, the working group mentioned, that may researchers involved in publishing economic data are not making their data openly available. There is still a lot of work to do to raise the community's awareness with regard to the benefits of openly published data. Sharing economic data more effectively is the first step towards better policies, and more collaborative research around major international problems.
Against the background of the worldwide financial crises the working group stated, that it is imperative to gain a better shared picture of economies and markets around the globe. Also to inform policies aimed at economic recovery, to make economic decisions more transparent, and to make decision makers more accountable publishing economic data is a relevant task.
The Open Economics project already provides open content, data and code related to Economics. This includes a 'data store' and a service to graph data. Currently 55 Data Sets are available – approx. half of it is available as open data – the other half unfortunately is not (yet?) openly licensed.
photo: Open Knowledge Foundation http://okfn.org/about/
---