Posted:
February 8th, 2016 |
Author:
Sven
|
Filed under:
EDaWaX
|
Tags:
application
,
ckan
,
documentation
,
Research Data
,
Software
|
Comments Off

on Documentation of EDaWaX's CKAN-Application: First draft available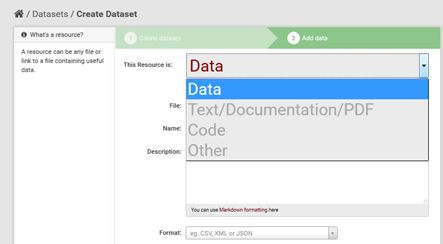 One of the primary objectives of the EDaWaX-project is the development of a software application which intends to facilitate the management of research data for journals in the social sciences (and especially for those in economics and business studies).
The software application is approaching its public release at the end of the current funding term in late April. But we are already very far with the software's developement. For those of you who can't await the public release, we have just published a very first draft version (Version 0.1) of the application's documentation. Even though there are still some parts of the functionalities that are not yet covered by the documentation, interested readers and researchers can get a picture of the application's functionalities and features.
We will expand the documentation from time to time till the final release of Version 1.0 in April. In a few weeks we will also post another article which deals much more with the application and its functionalities. To put in a nutshell: Some of  the great features of the application are…
A lightweight metadata-schema which is easy to use. The amount of metadata fields depends on the resource to register. Needless to say that the metadata schema of EDaWaX is compliant to other disciplinary metadata schemas like the da|ra metdata schema and/or DDI.
The integration of authority files to facilitate author identification
Automated DOI-assignment for research data and supplemental materials…
…
This is just a short itemisation for preview. 🙂
Please feel free to comment the documentation!
---