Posted:
July 19th, 2016 |
Author:
Sven
|
Filed under:
German
,
Report
,
Research Data
|
Tags:
funding
,
recommendations
|
No Comments »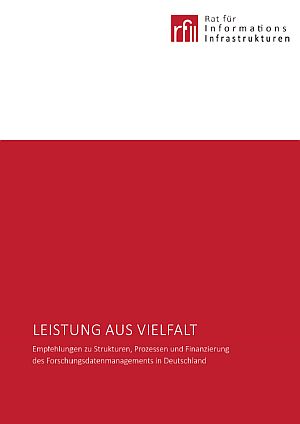 In June, the German Council for Scientific Information Infrastructures (RfII) has published some recommendations on determinats of future research data management and the development of corresponding infrastructures.
Because I believe that these recommendations are also of broader interest to our readers, I would like to highlight some of recommendations of the report.
But first of a all,  some introductory words on the RfII: The German Council for Scientific Information Infrastructures was established in November 2014. The 24 members work in an honorary capacity and were appointed by the Joint Science Conference of the Federal States and the Federal Government of Germany for a service period of four years. The Rfll was tasked by Germany's Joint Science Conference (GWK) with formulating broad-based recommendations for the science system in Germany as a whole.
Consequently, the recommendations presented in the report have ramifications for a variety of actors in the domains of politics and science. The Rfll is convinced that the adoption of new ways in dealing with research data as well as long-term preservation and accessibility will be a significant, common challenge for all actors in the years ahead. Read the rest of this entry »
---